Sparked by the death of Tilikum's trainer at SeaWorld, Orlando; marine mammal experts, zoo and aquarium representatives and scientists headed to Capitol Hill yesterday to testify at the hearing
Marine Mammals in Captivity: What Constitutes Meaningful Public Education?
. Among attendees was director of
The Cove
, Louis Psihoyos who said that aquarium performances of marine mammals are no more than "stupid tricks for our amusement."
A main argument in the hearing was that aquariums are not providing accurate information to visitors about marine mammals and are misleading or misinforming the public with outdated information.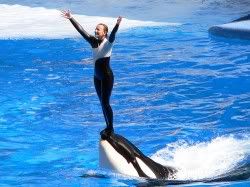 photo credit Change.org via Stig Nygaard
Full article here (Change.org):
http://animals.change.org/blog/view/seaworlds_educational_value_challenged_in_congressional_hearing