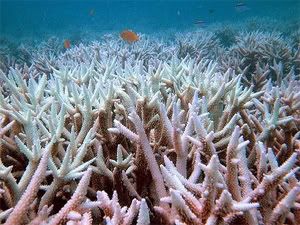 photo credit The Sydney Morning Herald
That's bleached (read: effectively dead) coral, and that pretty much sums it up.
Ocean acidity caused by carbon emissions has been frequenting the news lately, but what does that mean for the Great Barrier Reef off Australia?
"If people's CO2 emissions continue as they have, the future of the reef is very grim. I would suggest that coral reefs will be highly altered and perturbed ecosystems by 2050 if we do not make a massive effort to curb our emissions. The findings back up much of the previous research that finds ocean acidification will have serious impacts on reefs,"
says Dr. David Kline, a researcher monitoring experimental sites based of predicted future CO
2
levels.
Full article here (The Sydney Morning Herald)