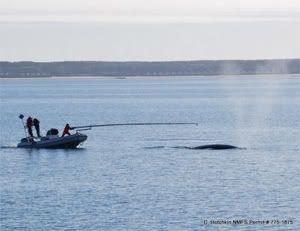 photo credit C. Hotchkin
As I've mentioned before
, North Atlantic right whales are one of the most endangered species in the world - marine or otherwise. Only about 450 individuals are left. Needless to say, conservation efforts are trying to move forward quickly with research helping us to better understand how to protect them. The number one threat to North Atlantic right whales is ship strikes. While feeding on tiny crustaceans called copepods (think Plankton from SpongeBob), these whales cruise along just below the surface where they are difficult to see but still in danger of being hit by boat propellers. What's more is they're pretty much silent feeders.
"Auto-detection buoys are making a remarkable attempt at recording the whale sounds to show when whales are in the area," said Susan Parks, assistant professor of acoustics and ecology and senior research associate, Penn State Applied Research Laboratory. "But North Atlantic right whales don't make call sounds when they are eating, so they don't show the whales when they are feeding."
Researchers are attaching suction cups with acoustic recording tags to the whales (pictured above) to track their movements in an effort to learn where they go to feed and what areas to focus on protecting.
Full article here (Science Daily)