Well guys, it's here. Finally. See what I've been spending all my time doing recently and check out the new
Global Ocean
website! It's beautiful! (No, I didn't build or design it, just managed and wrote up a bunch of content. You can see all my blog posts
here
, and be sure to check out the
Campaigns
and
Learning
pages, 'cuz I worked on those too!)
And now that the website is live, I can link it up with a post I've been delaying until the launch. Earlier this summer I participated in an Ocean Awareness March through London organised by
London Against Cetacean Slaughter
. Check out my writeup below, or
read it on the new Global Ocean site
!

photo credit Maura Flynn; clickthrough for larger
On 31 July 2011 approximately 50 ocean activists from around the UK gathered in sunny London for the Ocean Awareness March, organised by
London Against Cetacean Slaughter
. The goal was simple: Raise awareness and call to the public about the plight of marine species worldwide.
The crowd had a positive mood and an important message – The seas must be saved if we are to save ourselves!
The parade marched across central London, through Trafalgar Square and past the Japanese and US embassies carrying signs with messages including "whaling is not culture," "save our seas" and "beep if you like dolphins."
Notable attendees included PADI EMEA vice president Mark Caney and whale activist, artist and
Surfers for Cetaceans
director Howie Cook. Several organisations also participated in the event including Global Ocean and
Women for Whales
as well as
Sea Shepherd
, who were raising money for their impounded flagship the Steve Irwin.
There was a good response from the people of London with many taking fliers and stopping to ask questions. We even had some folks waving, cheering and beeping their horns!
London Against Cetacean Slaughter is committed to putting an end to whaling and to dolphin drives like those in Taiji, Japan. For more information on London Against Cetacean Slaughter
click here
.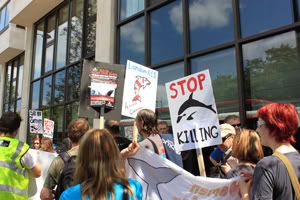 photo credit Maura Flynn