Two exciting sightings recently in UK waters:
Last month a slipper lobster was found sitting atop a commercial crab pot east of Falmouth. This warm water species has only been recorded in Britain a few times since records began over 250 years ago. The lobster, named Popeye, is just under 5 inches long, has orange eyes and special plates on it's head used for burrowing in search of food or shelter from predators. Personally, I think Popeye is adorable.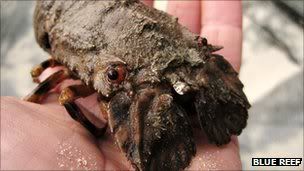 photo credit Blue Reef
This month, another warm water species not previously recorded in the UK has joined Popeye in Cornwall. A dwarf sperm whale was spotted on a beach, raising the number of cetacean species sighted in UK and Irish waters to 29. The small whale, which scientists know very little about, was rescued by a member of the public and seems to have swum happily away.
Dr Peter Evans, Director of Sea Watch, said "Pictures of the Penzance whale show it to be dwarf sperm whale, its fin being large and almost triangular. This species has been recorded on only a handful of occasions in Europe, including Spain and France, and never in Britain or Ireland. It is just one of the increasing number of records of warm water species to be turning up around the British Isles in recent years."
Thanks to the unnamed hero who refloated the whale!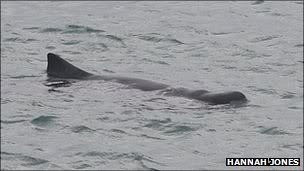 photo credit Hannah Jones
Read more about the slipper lobster on BBC
here
.
Read more about the dwarf sperm whale on BBC
here
.