The first and largest event of its kind in Europe, WhaleFest ran the weekend of bonfire night this fall in Brighton, UK. A celebration for those who love whales and dolphins, WhaleFest - organised by
Planet Whale
(international search engine for whale watches) - attracted THOUSANDS of people and was a huge success! Great job guys!!
So what happened at Whale Fest? Well, let me tell you...'cuz I was lucky enough to attend!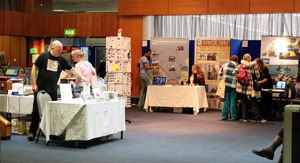 All photos are mine; clickthrough for larger
Over 60 exhibitors set up tables on two floors, handing out information about environmental charities, whale watch programs and volunteer opportunities. Several retailers were selling beautiful books, jewelry, posters and paintings featuring whales and dolphins. In the main hall, life-sized models of whales filled the room along with a "virtual whale watch" and an exhibit that brought you inside the belly of a whale!
In the Workshop Room, mini-courses were held on how to get involved in a career with whales and dolphins, whale identification, photographing cetaceans and much more. In the Talk Talk Chamber, celebrities and experts in the field spoke about their films, books, research and experiences with whales and dolphins and included the likes of Stephen Marsh (of
British Divers Marine Life Rescue
), Philip Hoare (author of
Leviathan, or The Whale
), and Mark Carwardine (of BBC's
Last chance to See
).
If that wasn't enough, there were craft workshops for kids, film screenings (including
Keiko: The Untold Story
), raffles and a celebrity fundraising event that raised over £1,600 for several marine charities.
Wow!
Here's a few quotes taken from
Planet Whale's summary
:
"It was a great pleasure to attend WhaleFest and be part of such a fun and important event. I thoroughly enjoyed myself, met some very interesting people and thank you for all your generous hospitality."
- Mark Brownlow, series producer BBC Ocean Giants, and Clash of the Titans speaker
"I just wanted to say a big thank you from myself and also from MARINElife for the very enjoyable first WhaleFest which we all found a superb event. It really gave us the opportunity to engage with our volunteers, supporters, other organisations and the public."
- Adrian Shephard, MARINElife (charity)
Missed this year's WhaleFest? No worries - plans are already being made for next year's event, which is sure to be even bigger and better! Stay tuned to
Planet Whale's website
for future information and for all your whale watching needs!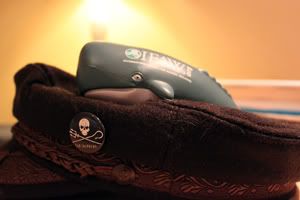 Souvenirs!