Hey all - just a quick update about yours truly. :)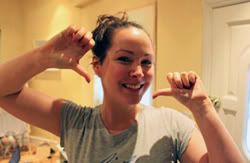 This blog has been neglected a bit recently...so let me tell you why! PS- It's relevant.
SO, first of all, I've been distracted by a bit of a project which you will (hopefully) see soon! More on that when it's actually posted.
Second, I've been distracted by a bit of a project. Wait - did I say that? Oh yeah, there's TWO! This one you can know about right now though, and you can even be a part of it if you'll be in lovely lovely London next month!
Yep, it's time to start planning for the annual
Hands Across the Sand
event! And this year, the London even is being organised by...ME!! So it's gonna be super-fun, right? Right.
So hey, if you'll be in London on the 25
th
of June, come join hands with us in the beautiful St James's Park (my personal favourite) across the Blue Bridge to say NO to offshore oil drilling and fossil fuels and YES to clean energy! Check out the event on Facebook
here
! All welcome! Seriously, like everybody. More information to follow on this blog, in the group and on
Twitter
.
It would be great to see as many of you as possible. :) I promise it will be fun and not weird. I'm actually pretty cool in person.
*coughcough*drinksafter?*cough*
Our event is listed on the
Hands Across the Sand
international map, so check it out and let me know what you think or if you have any ideas.
Thirdly, I'm very pleased to say I've been taken aboard at
Global Ocean
- a London based marine conservation charity that does great work to raise awareness about the effects of modern life on the seas and funds crucially important marine conservation and research projects. You can check them out (and please do)
here
. The website is currently being re-launched into an amazing new layout, so keep these guys bookmarked. I'm sure I'll be posting more bits from them in the future.
So there you have it! I'm truly sorry about the neglect, but take heart in knowing I've still been spending my spare time on marine biology, conservation and environmental issues. You'll see more of me around now. Thanks for sticking by me in my chaos - I love you all!
Cheers,
The Unemployed Marine Biologist xoxo