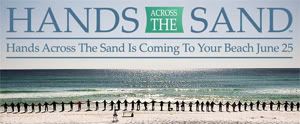 image credit Hands Across the Sand
Your local Hands Across the Sand event is happening a week from tomorrow! Get excited!!! (I know I am.)
To find your local event, check the map at the official
Hands Across the Sand
website, or register your own if there's not one close by! It's not too late!!
If you happen to be in the London area, come on down and join me at St James's Park for a fun, fast & free way to help save the environment and move towards a cleaner energy future. Check us out on
Facebook
,
Gumtree
or the official Hands Across the Sand site under "
Global Locations
". I promise it will be a good time!
Rain or shine, folks. No harm in getting a little wet while protecting our seas.
All welcome. Even YOU. :)
*ahem*
And now, I am please to bring to your attention, a lovely article which contains an interview about our event this year. I'm very happy people are taking notice of this! Click below!
Digital Journal via Alexander Baron, Op-Ed: Hands Across the Sand - To Save the Planet
I'd also like to thank
London Against Cetacean Slaughter
and
Global Ocean
for helping to promote this event. Keep fighting the good fight, guys!