Hi all.
The demonstration last Thursday in Chinatown was a great success!

photo credit EcoHustler
I was excited before I even got there. I had read an article the day before we even went over about restaurants that were already pulling shark fin soup from their menus, fearing the bad PR it would bring them.
"'We've taken it off the menu,' says Yip-Cheong Wong, manager at the Golden Dragon, pointing to a sticker plastered across the soup section: 'Save the shark: This item is no longer available.'"
And other restaurants have followed suit, how exciting!
Personally, I was a bit worried about going into a cultural center on a big holiday and offending people who value their traditions. I've mentioned here before I don't think aggressive confrontation is always the best way about things. However, I did like the way the
EcoHustler
blog put it:
"The trouble is, eating shark fin is a cultural phenomenon so you have two choices: be politically correct and look the other way or strap a pair on and have a conversation with the people who like to eat it."
The people of Chinatown seemed genuinely concerned about the shark populations and many of them were very opposed to shark fin soup and the practice of shark finning. It was a very friendly afternoon and we reached a lot of people.
So what did we do?
Well, Matt over at
EcoHustler
created some nice
leaflets
(available for download and distribution) for the event with information about the decline of shark populations and a few suggestions for people to take action. Having never handed out leaflets before, I was honestly surprised at how many people took and read them. I always just assumed that no one ever took those things, ha! We also had a lovely shark-person in participation: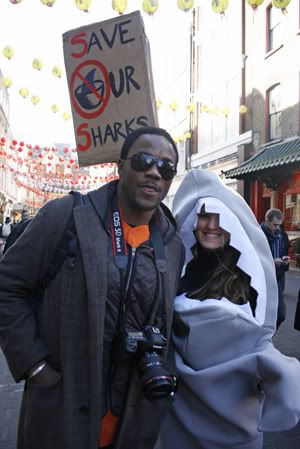 photo credit EcoHustler
And shark cookies!

om nom nom
photos are my own
We teamed up with
Global Ocean
, who is preparing a petition to end shark finning in the European Union. Please take a moment to sign it
here
. There is only
one week
left before it must be delivered!!
Conversations worth mentioning were with a restaurateur who owns a chain of Chinese restaurants and was concerned about the image shark fin soup gives establishments who continue to sell it, and a woman raised in China who has known shark fin soup all her life but remains shocked and horrified at the practice of finning and doesn't understand why anyone actually supports it.
All in all, a great day with great people.
Missed the event? No worries. Stay tuned here for future rallies and things you can do on your own. Why not start by refusing to buy from restaurants who continue to serve shark on the menu, and by signing the
Global Ocean petition
?
Additional Information:
Shark's Fin Comes Off Menu as Cruelty Campaign Sways U.K. Chefs - Bloomberg
(*Worth noting in this article, Royal China claims to have removed all shark products from their restaurants, but investigation by EcoHustler proves otherwise. It is important to note that many of these restaurants will serve it off the menu as to not attract negative attention)
EcoHustler
Check out EcoHustler's summary of the event here; "We Joined the SharkSide!"
Save Our Sharks leaflets for download
Global Ocean
Global Ocean's petition to ban shark finning in the European Union