I'm totally on a shark kick. It's hard not to be. Sharks are awesome.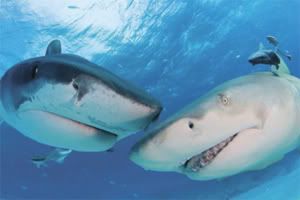 photo credit Jim Abernethy & Barcroft
These are the best photos of sharks I've ever seen, so you should definitely check them out. Jim Abernethy has spent the past 35 years in the company of sharks and even has personal relationships with certain individuals.
If you like what you see, check out his book of photographs
Sharks Up Close
. He even has a flying boat to take aerial photos! It's called the
Oversear
...get it? I thought that was wicked clever.
Valentine's Day is coming up, so if I've got a secret admirer out there...you could get me Mr. Abernethy's book. :P
Full article here (The Telegraph)