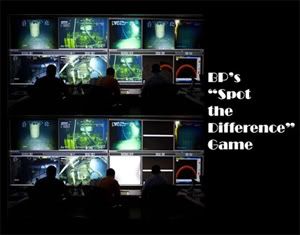 image credit International Business Times
"I guess if you're doing fake crisis response, you might as well fake a photo of the crisis response center."
-John Aravosis, AMERICAblog.com
BP has admitted to doctoring several photos on their website depicting responses to the oil spill. They have refused to say why, but I think it's pretty obvious as their public image is hurting right now. Unfortunately for them, the efforts seem to have backfired.
You know what else is funny? According to digital information embedded in the photo shown, it was taken in MARCH 2001! That's WAY BEFORE the oil spill ever happened. Ridiculous.
As can be expected, internet users had a little fun with this one, so I'll post a few links to more hilariously photoshopped images:
AMERICAblog.com
Gizmodo
(check out the comments!)
Twitter: @stephenstockman
Twitter: @coreyspring
Of course, you can find all these
on Twitter @BPGlobalPR
But my favourite? My absolute favourite?

image credit AMERICAblog.com
Full article here (International Business Times)