For my 100th post, I'm going to write about something I've been meaning to for a while now...it's only fair.
New England Aquarium (NEAQ) in Boston, Massachusetts. One of my all-time favourite places to check out what's going on in the sea. As a child, my family used to vacation to Boston every summer, and I remember DESPERATELY waiting for the day we'd visit the aquarium. I remember the central Giant Ocean Tank, and always trying to find my favourite fish - the "big nose fish" aka hogfish. I remember FREAKING out at the dolphin show (which the no longer have, thankfully...but what does a kid know?) and waving my stuffed sea lion, Guthry, in the air super-high so I would get picked to have the sea lion in the show give me a kiss. They never picked me, though. Regardless, I truly believe that NEAQ furthered my passion for following marine science. I even got to volunteer there after I graduated college, but that's another story. Anyway, now that I've given NEAQ a proper nod - the real story:
NEAQ is one of the relatively few (as far as I know) aquariums to be involved in lots of other areas outside their main look-at-fish scheme. One of those areas is responding to the Gulf oil spill. NEAQ rescue teams have brought in over 40 oiled sea turtles from contaminated waters for recuperation in rehabilitation facilities based in New Orleans. The turtles were collected by boat and brought back to local facilities at the Audubon Aquarium of the Americas to be cleaned and treated. To see all of the amazing hard work they've done (and photos of happy sea turtles, of course), check out their
Marine Animal Rescue Team Blog
(This is the first post of the series, for consecutive posts follow the "Oil Spill Posts" menu on the right)!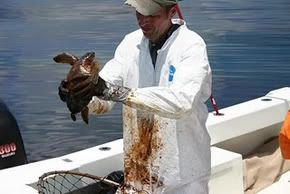 photo credit NOAA, Georgia DNR, NEAQ
But if that wasn't cool enough, NEAQ is building their own rescue and rehabilitation facility in Quincy, Massachusetts where turtles can come to be properly cared for after environmental disasters such as this spill. If you're feeling particularly generous, why not
send a few dollars
(pounds, euros, etc.) their way to help raise the $500,000 they need? Think of the happy turtles.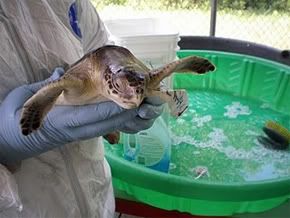 photo credit NEAQ
More information here (NEAQ)