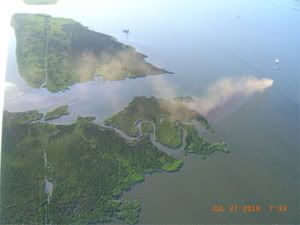 photo credit US Coast Guard Petty Officer 2nd Class Wayne Alleyene
If you're collecting oil spills this summer, you're in luck! Here's another to add to your collection!
Honestly, this is getting a little ridiculous. Has anyone else but me thought that perhaps this is just constantly occurring...Maybe we just have a heightened awareness now because of the BP spill? I wonder how many spills a year go unreported...
A barge crashed into an abandoned well head in Barataria Bay on Tuesday, spilling oil into the already suffering Gulf of Mexico. The pipeline is now spewing orange and brown oil 100ft into the air before it comes raining back down into the Gulf.
Great.
Full article here (LA Times)