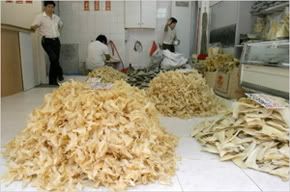 photo credit New York Times via European Press Agency
Citibank was offering a 15% discount on shark fin soup to card holders at Maxim's Chinese Cuisine restaurants. Was.
Conservationists in Hong Kong and across the globe have expressed outrage at the bank's environmentally ignorant promotions, citing increased demand of shark fin soup linking to decreasing shark populations.
"Last week, Citibank Hong Kong withdrew the promotion, which was to have run until the end of the month, in response to feedback. ''Citibank is committed to managing our business in a manner that benefits the society and the environment,'' it said in a statement."
The Global Shark Initiative
on Facebook, with over 14,000 fans, has helped raise awareness on this instance and other instances of shark fin soup and other shark products in the news. If you're on Facebook,
check them out!
Full article here (New York Times)