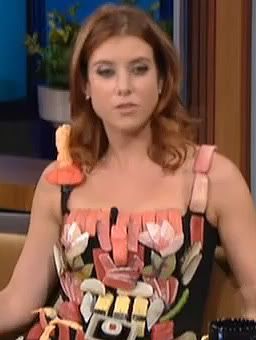 photo credit NBC & Ecorazzi
Whut? Mmmkay, moment I wish I had a TV.
So I just heard about this sushi dress Kate Walsh wore on Leno. Inspired by Lady Gaga's disgusting-yet-creative meat dress, Kate Walsh decided to create a sushi dress. Worth pointing out - this was all fake sushi. No real fish on this dress, a wise choice if you ask me.
The dress featured only sustainable fish types and was designed to help raise awareness about choosing sustainable seafood. It is now being passed on to a fan as part of a sweepstakes for
Oceana
.
What do you think? Crazy idea or great way to raise awareness? Or both? Personally, I think this would make a great Halloween costume!
Full article here (Ecorazzi)
PS- Check out
the latest sustainable seafood guide
linked in this article! It offers sustainable suggestions based on the type of flavour and texture you already like in fish. (National Smart Seafood Guide produced by Food & Water Watch)