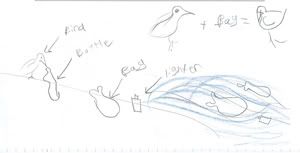 image credit Isiah & Ocean Conservancy
"I was heartbroken. Pollution is ruining the beauty of beaches around the world,"
says Jocelyn, a fourth-grader who participated in New York City's leg of the Ocean Conservancy's International Coastal Cleanup.
Students headed to their local beaches to collect garbage and record the items they found. Here's a bit of what they had to say:
"Some things that are making all these things go on beaches are that people throw things into lakes, rivers and oceans, and those things travel around the world and end up on shores and on beaches." -Juliet

"On Plumb Beach I saw two cigarette liters. You might think that's not so bad but they still had oil in them." -Karin

"I don't want to sound like I'm bossing people around but you guys have got to step up and get tough about this stuff." -Jack
The children sent in their findings to the Ocean Conservancy along with a few suggestions they had about reducing the amount of trash that ends up on our beaches.
Completely adorable. If fourth-graders can go out and actually do something about the problem, why can't adults?
Full article here (Ocean Conservancy)