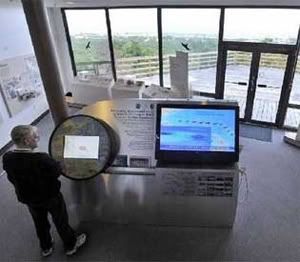 photo credit Cape Cod Times
A fancy new computer will tell you the approximate location of endangered right whales off the coast of Provincetown, Massachusetts. They congregate near Stellwagen Bank National Marine Sanctuary, where unfortunately major industrial shipping lanes have cut through. Ship strikes are a problem for right whales, and with their numbers still not recovered from the days of whaling, this means trouble.
"The new warning system is the first in the world to show, in real time, the general presence of endangered whales as well as ships in one of the mammals' most populous gathering spots."
Lanes have recently been shifted to avoid collisions, but a new threat looms. Liquid natural gas ships - among the largest and fastest vessels of all - have begun to take over the area thanks to Excelerate Energy and Suez Energy. Hopefully the new computerized warning system will prove effective in providing the needed information to slow down and avoid whale strikes.
Full article here (Boston Herald)