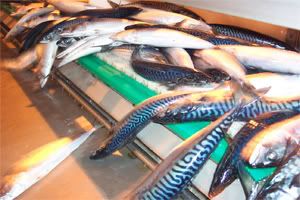 photo credit Shetland Marine News
It is a really pretty fish though, isn't it?
"Politicians and fishing industry leaders will gather in London on Wednesday for a second round in the protracted mackerel fisheries talks between the EU, Norway, Iceland and Faroe."
I've mentioned the
"Mackerel Wars"
here before. A solution is currently being sought.
Basically both Iceland and the Faroe Islands significantly increased their catch quotas this year despite worldwide dwindling fish stocks. The EU is concerned about overfishing...Or is it that Scotland wants to continue to have the majority of the fish?
One thing's for sure:
"It is essential that any deal reached must ensure that mackerel is harvested at sustainable levels whilst at the same time protecting the rights of those who have traditionally fished for the species in the north-east Atlantic."
I totally agree. But let's please remember the sustainable part as well as the traditions!!
Full article here (Sheltand Marine News)