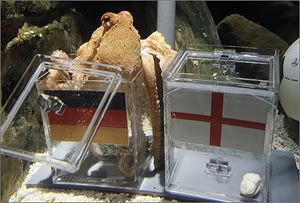 photo credit Sea Life Oberhausen
My friends, this is a sad day - and this will be the only update for today. I'm posting it immediately after I found out...Paul the psychic octopus has passed.
Paul rose to worldwide fame this year as he correctly predicted the outcome of several World Cup games. He chose the winners of all seven of his home country's games (Germany) and of the final game between Spain and the Netherlands.
After the last of the World Cup predictions, Paul retired.
"He won't give any more oracle predictions — either in football, nor in politics, lifestyle or economy,"
said Tanja Munzig of the Oberhausen Sea Life Aquarium.
"Paul will get back to his former job, namely making children laugh."
Paul appeared healthy upon his check in last night, but this morning he was found to have died of natural causes. Paul was two-and-a-half years old - a long life for an octopus of his variety.
"'We had all naturally grown very fond of him and he will be sorely missed,' Sea Life manager Stefan Porwoll said in a statement."
It is still uncertain how Paul will be remembered at the aquarium, but his ledgend won't soon be forgotten. Having been hatched in England and therefore of English origin, he was appointed as an ambassador to England's bid to host the 2018 World Cup.
"'El Pulpo Paul' became so popular in Spain that the northwestern Spanish town of O Carballino tried to borrow him and made him an 'honorary friend.'"
Donations made in Paul's name will also help fund a sea turtle rescue facility on the Greek island of Zakynthos.
Rest in peace, Paul.
Full article here (The Globe and Mail)