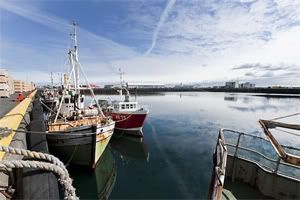 photo credit AFP
The European Union is threatening Iceland with sanctions on the grounds that the country is overfishing mackerel.
"According to international laws, we as a coastal country may fish in our jurisdiction so it is absolutely preposterous of the EU or its member countries to make such threats,"
says Jon Bjarnason, Fisheries Minister.
"The Nordic island nation has unilaterally decided to raise its mackerel quota to 130,000 tonnes this year compared to the usual 2,000 tonnes agreed upon in an accord with the EU, the Faroe Islands and Norway in 1999."
Yes, Iceland, you have a right to fish in your own waters, but damn that's a huge increase! Be careful...
"Scottish and Norwegian fishermen are particularly angered by what has been described as a "mackerel war.""
This wouldn't be the first time. Here's a bit of a history lesson: Iceland has great fishing grounds. Nice cold waters and a big coastline all the way around, pretty much right in the middle of the North Atlantic. The rest of Europe has known this for a long time, and they've always wanted in. There were three "cod wars" between Iceland and Britain in the 50s and 70s - disputes over territorial waters. This resulted in a bunch of nets being cut, ships being rammed - even shots being fired - and a general feeling of hostility between neighboring fishing countries.
It could happen again, and it looks like it might. When the resources start disappearing, the people will start to fight over them.
Full article here (AFP)
***UPDATE***
I almost forgot...a book recommendation! For more information about the Cod Wars, pick up
Cod: A Biography of the Fish That Changed the World
by Mark Kurlansky. A great read! I'm actually going to go through it again with a highlighter.