You might have heard by now - and I hope you have. The environmentally-minded grocery chain Whole Foods has committed to phasing out all unsustainable seafood from their stores by Earth Day 2013.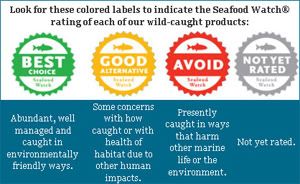 image credit Whole Foods
"Green or "best choice" ratings indicate a species is relatively abundant and is caught in environmentally-friendly ways. Our stores already feature a number of green-rated species. Having green rated species is critical because it demonstrates that fish populations can be healthy and that fisheries can be sustainably managed. Yellow or "good alternative" ratings mean some concerns exist with the species' status or catch methods; and red or "avoid" ratings mean that for now the species is suffering from overfishing, or that current fishing methods harm other marine life or habitats. We're evaluating the red-rated fisheries to see if changes can be made to improve fishing practices and ultimately earn a higher rating."
Here's a question: If a fish is rated-red, why continue to sell it? Well, Whole Foods has a pretty good answer:
"Actually, we already stopped selling especially vulnerable red-rated species such as non-MSC-certified Chilean sea bass, orange roughy, bluefin tuna, sharks, and marlins (with the exception of Hawaii-caught blue marlin, sold only in Hawaii stores). Under this new program, all swordfish and tuna from red-rated fisheries will be eliminated from seafood counters by Earth Day 2011. And by Earth Day 2012, all other seafood from red-rated fisheries will be discontinued with the exception of Atlantic cod and sole, which will be sold through Earth Day 2013. In the meantime, we're evaluating the red-rated fisheries to see if changes can be made to improve fishing practices. Some fishermen have worked with us for many years so it's a partnership and a process that takes a little time to change."
So, steps have already been made - which is great! It looks like each year on Earth Day the store will be eliminating the next-least-sustainable fish, in a constant movement forward.
This program will compliment the store's already-existing program for labeling farmed seafood, which follow the highest standards in the industry. They also have a partnership with the
Marine Stewardship Council (MSC)
which is the world's leading certification organization for wild-caught seafood.
This program aims to educate consumers about what they're actually buying, and perhaps to put a little bit of pressure on fisheries to step up their game and create a better, more sustainable product. I think it's great to know exactly what you're buying and exactly where it came from. An educated consumer makes better choices, but as we've seen in the past, trying to choose the best sustainable seafood can be a bit tricky sometimes...Even for someone with a degree in marine biology!
So, cheers Whole Foods. I will definitely be supporting this program. I hope you will too!
Full article here (Whole Foods)
Whole Foods Market website