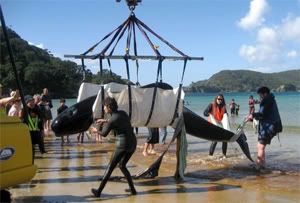 photo credit AFP
Bittersweet news from New Zealand.
Sixty-three pilot whales stranded themselves at Karikari beach on Thursday. Of those, only nine made it back out to sea.
""It's been tough but we're glad nine have survived," Kimberley Mulcaster of the Project Jonah organisation said."
It's better than no survivors, but still - 54 dead whales weighs heavy on a marine biologist's heart.
Full article here (AFP)