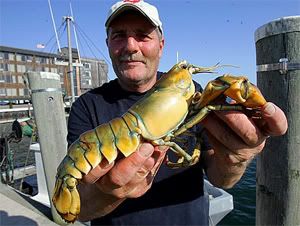 photo credit AP & Ruben Perez
Look at him! He's so pretty!!
This attractive little guy knows how to stand out in a crowd - experts estimate his colour variation only occurs about once in every 30 million lobsters! This is even more rare than the beautiful blue lobsters we sometimes see.
For those of you who are wondering - no, he will not be eaten. It's not mentioned in the article, but I looked into it and this little dude is headed off to college at the University of Rhode Island, where they have an excellent marine biology program. I think his tuition has been waved.
Full article here (NY Daily News)