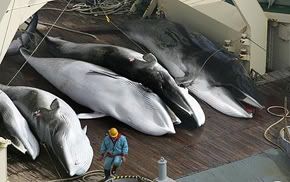 photo credit Telegraph via ALAMY
The International Whaling Commission (IWC) is meeting this week - right now - to determine the future of the world's whales.
"The five-day meeting in the resort of Agadir is arguably the commission's most important gathering since 1986, when a moratorium on commercial whaling halted the factory-style slaughter of tens of thousands of animals every year."
The drafted proposal intends to bring Japan, Norway and Iceland back under the control of the IWC in exchange for the re-opening of commercial whaling. Whaling will be re-opened in the Southern Ocean Whale Sanctuary, which harbors the most pristine waters in areas least disturbed by humans. It is also an important feeding ground for many whale species. Australia, Germany and millions of conservationists across the globe have been tough in opposing the draft, stating that proposed catch quotas need to be based on scientific evidence - not previous catches and political pull.
Full article here (Telegraph)