Well, we did it! We're officially on the front page of CNN US!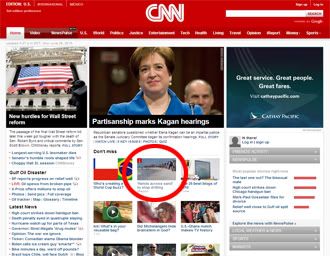 And here's another version!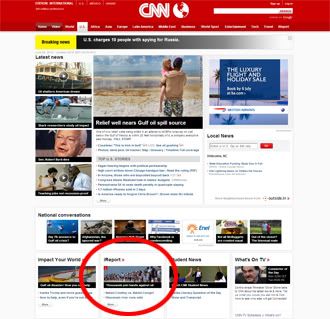 Congratulations to all who went, we attracted some serious attention! Events were held in all 50 US states and in 37 countries worldwide. There were over 900 total events across the planet.
All around the world, in their respective time zones, people began to gather at 11:00am. At 12:00 noon they linked hands across beaches, lakes, parks and public areas to stand together and say no to offshore oil drilling, and yes to renewable energy.
"I know we are all guilty of using oil, I just wish that people could see what is at risk by continuing to deepwater drill in the Gulf of Mexico. There has to be a better way,"
said Shelly Swanger of Seaside, Florida.
"Protesters in London were among those taking part in the action. At St James's Park a small group of environmentalists joined hands on the Blue Bridge as Big Ben struck 12 o'clock in the background. Organizer Charlotte Pulver said: 'We are so oil dependent, especially the US, and they are taking extreme risks. 'And extreme risks can cause extreme disasters.'"
Our London event was admittedly comparatively small, but check out our super sweet photos that we took walking across the city with our Hands Across the Sand sign!

We have pelicans too!!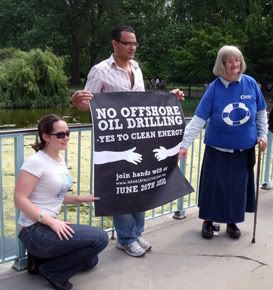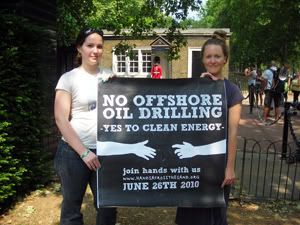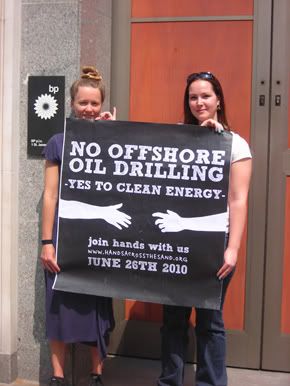 This is outside of BP World Headquarters
...we got chased away shortly after.


You can also check out the super-awesome video Lexi Riddiford-Bell put together for us
here
!
And if you haven't already, you simply must MUST check out the collection of photos from all of the worldwide events. They're on the Hands Across the Sand Flickr account,
here
. Seriously check them out. Some of them are AMAZING!!
Full articles here:
Hundreds of People Line Florida Shore in Protest at BP Spill as Tropical Storm Threatens to Disperse Oil Further (DailyMail)
Gulf Journals: 'I Know we are All Guilty' (CNN iReport)
PS
- I'm the one in the white Tshirt!
***UPDATE***
We've now made CNN's front page Featured Story! Check it out!!